Alternative Resources RV Mail Forwarding Service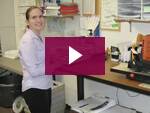 Alternative Resources provides complete RV Mail Forwarding Services for people all over the world. A quality mail forwarding service is very important for all types of travelers.
There are two basic types of clients that use a mail forwarding service:
** Travelers leaving their residence for a long period of time and therefore need a place to have their mail taken care of.
** Full Time travelers without a "permanent" residence.
EXCITING NEWS!!

The needs of our Clients are helping us expand!

We are switching to a more modern Website with a Personal Portal for Communication & Expanded Services

We are expanding our Facility to allow even better service for our Clients!

Please click Here for the full story

We have changed our name, please find & Bookmark us at Dakota Post

Years ago, your typical Mail Forwarding Service was mostly for the temporary traveler. That would include military personnel, diplomats, people who just wanted a PO Box for their mail and perhaps a voice mail telephone system. This particular client didn't need anything beyond having their mail legally received and forwarded to them periodically whenever needed.
The Full Time travelers have a much greater need. Not only do they need their mail taken care of, but they also need to establish a "permanent residence" for a drivers license, vehicles, passports, etc. This is why South Dakota and Alternative Resources has become the best State and company to establish a "new legal residence".
* No State Income Tax

* No Personal Property Tax

* 3% Excise Tax on net Purchase of Vehicles, RV's

* Ranks 47th in Lowest Private Passenger Car Insurance Rates


* No State Inheritance Tax

* No Intangible Tax on Investments

* Low Vehicle License Fees

* No Vehicle Inspections

* South Dakota per capita taxes lowest in Nation (Sioux Falls Argus Leader 7/27/01)
Still not sure?
Take a look at this great article about our Governor and what he's done to help his South Dakota motorists!
With a fantastic Governor like this - SD could become most sought after plates in the nation
As you can imagine, Mail Forwarding Services have become very popular with RV'ers, boaters and world travelers. After lots of research, everyone quickly realizes South Dakota is the most friendly state in the US for RV'ers, boaters, diplomats and travelers!
Not only are all their taxes excellent, South Dakota's Department of Public Safety (Motor Vehicle Registrations and Driver's License) is very sensitive to its travelers needs. They work very hard to accommodate travelers so they can be sure to establish a legal residence in South Dakota.
Alternative Resources prides itself on providing very secure, modern and the best possible services for all its clients. South Dakota will provide a RV legal address for the RV Fulltimer. What a great match!
Take a look at our various Navigation Tabs to learn more about becoming a Mail Forwarding Services client of Alternative Resources and why South Dakota is the best state to chose!
Take a look at our Map/Directions on our "About Us" page to see where we are located and how convenient everything you need is to Alternative Resources.

Deciding on which state is best for you is the first and foremost decision. Then, which Mail Forwarding Services Company within that state is the next decision.
Exceeding the Need - Alternative Resources is the best RV Mail Forwarding Service in the Best RV state - South Dakota!
Any Questions?
Call us at 800-477-2664 or 605-332-3711
or

Email Alternative Resources